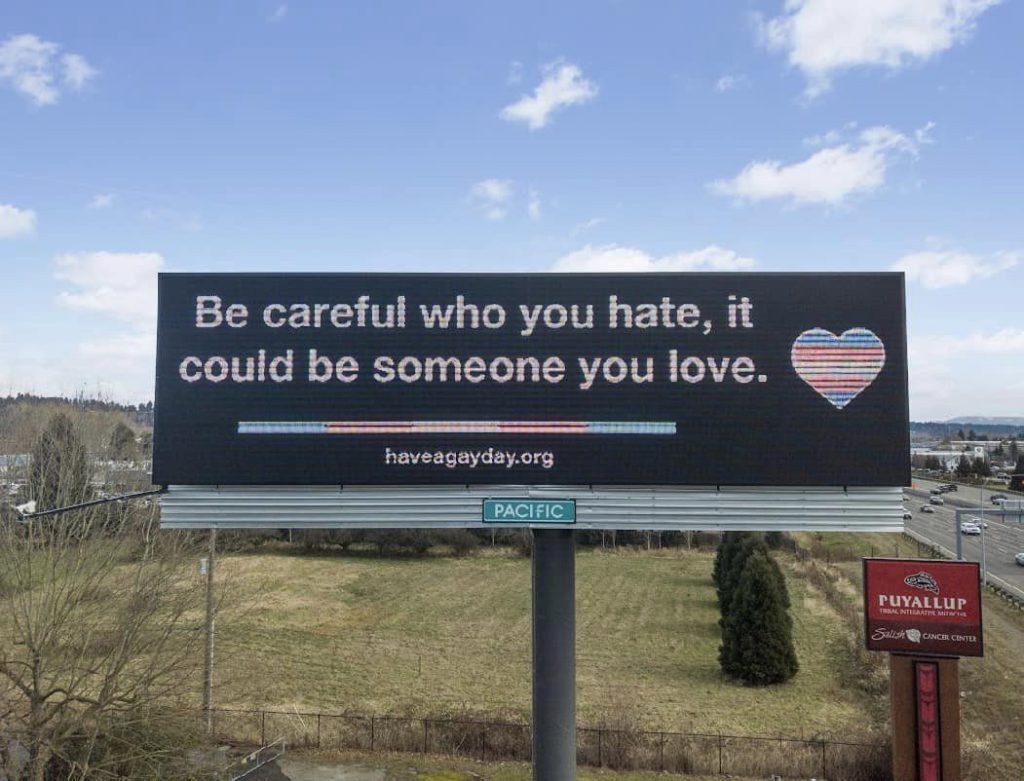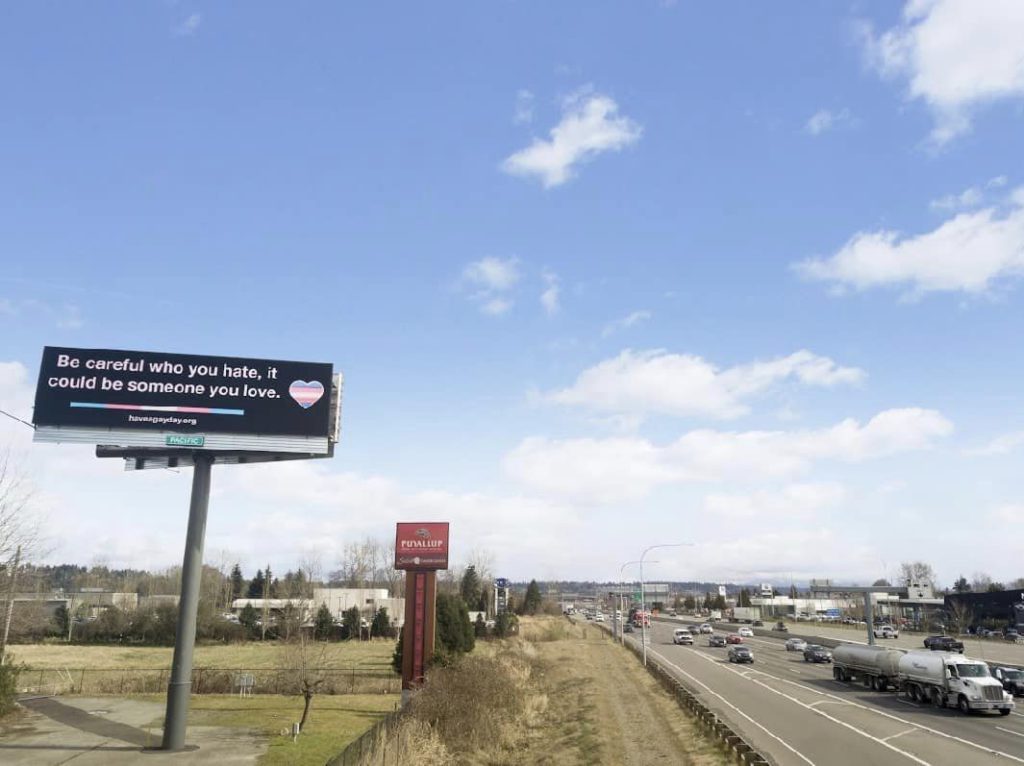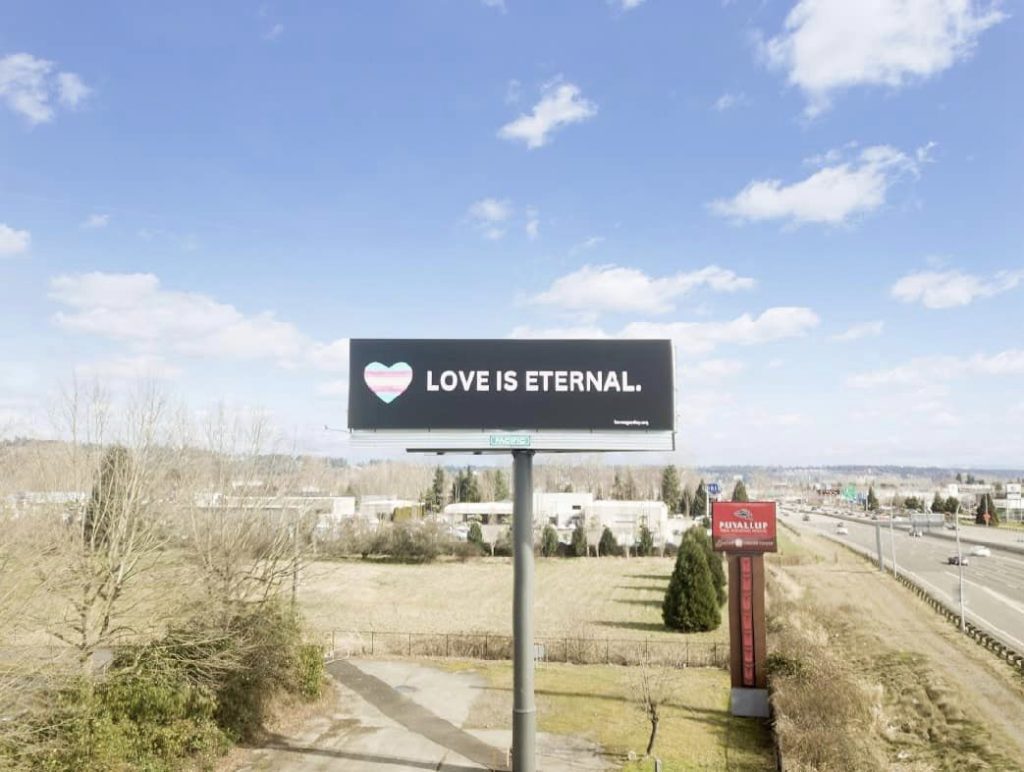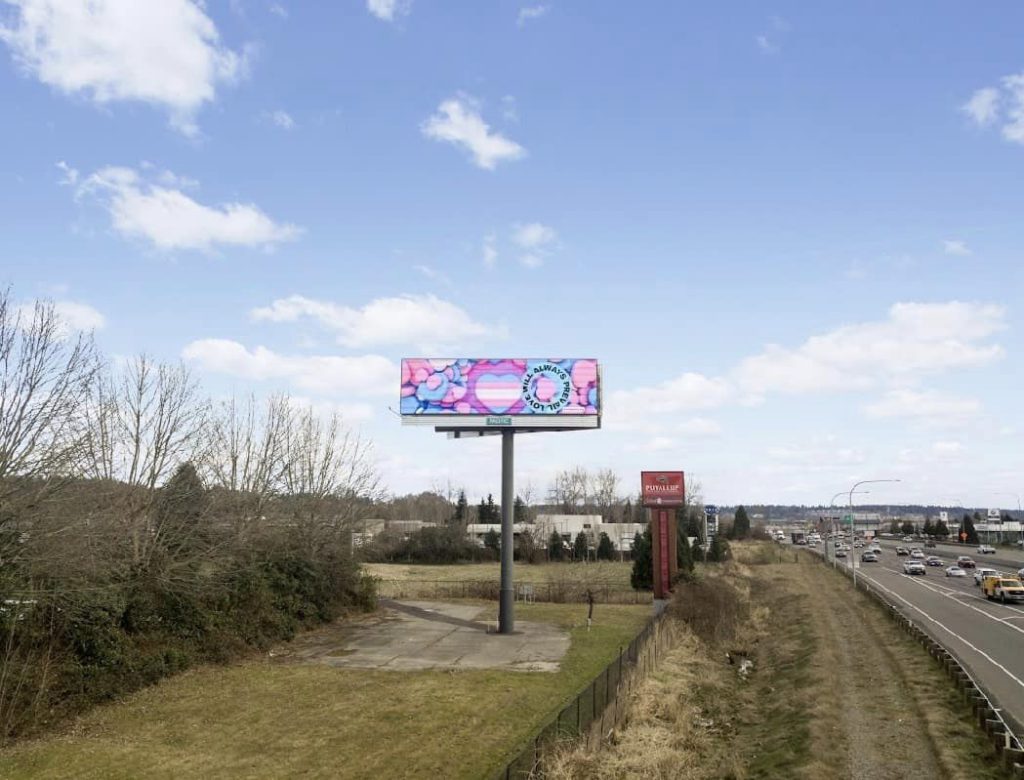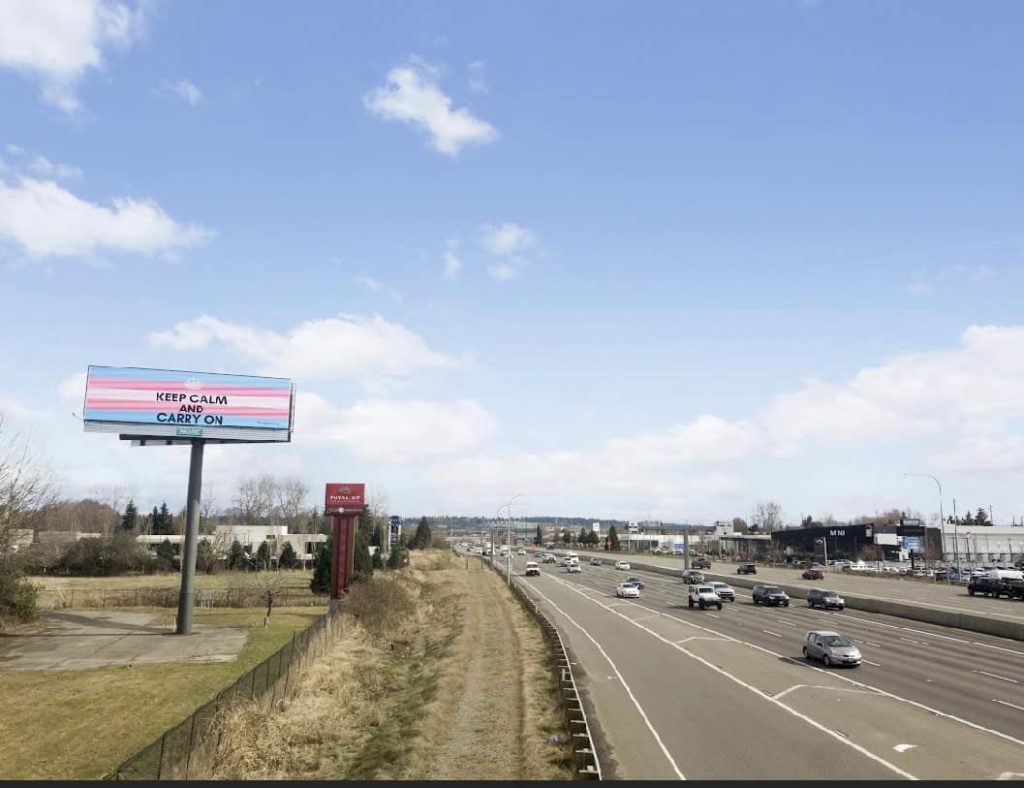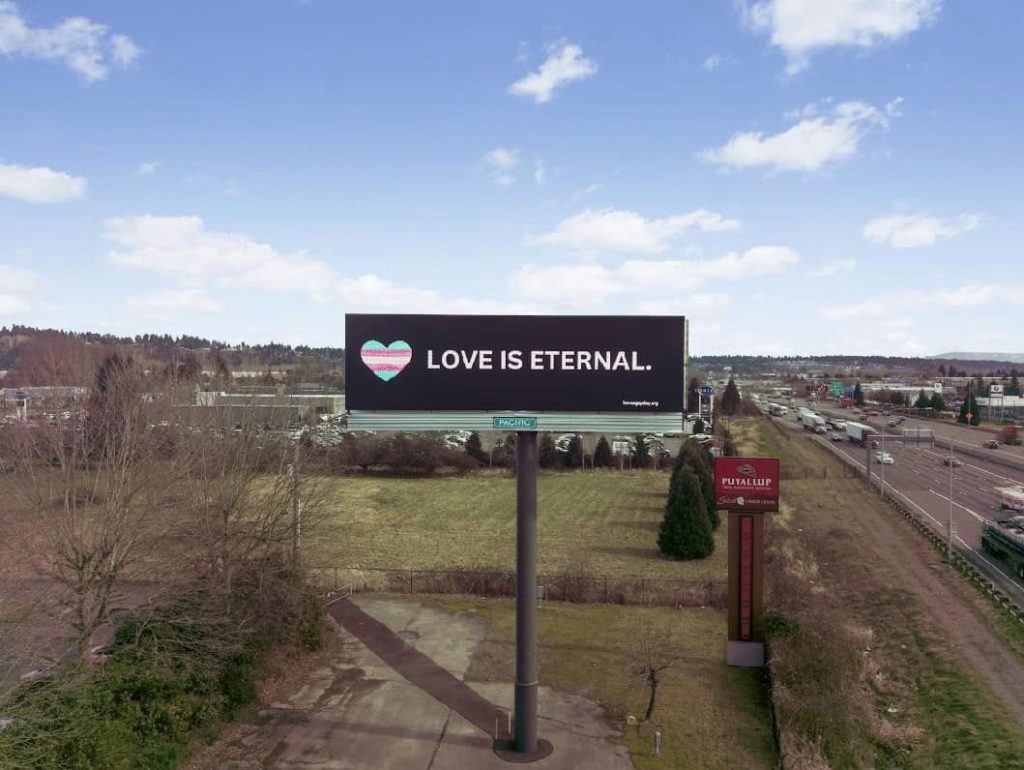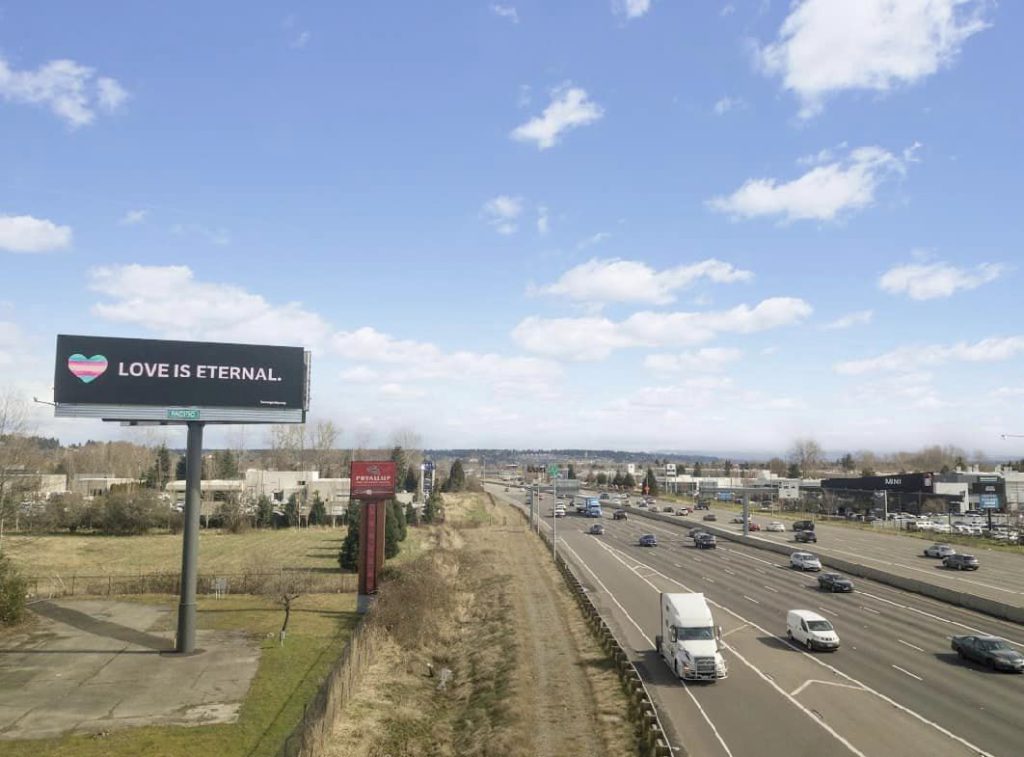 Please note:
The locations of billboards may change frequently.  These are not traditional billboards, they are digital billboards.  Also, designs may not show up in every rotation and sometimes you may seen a design every few minutes or possibly much longer.  Considering the graphics we are using are open sourced, we may not be responsible for all graphics being shown across the country.  Also, some of the locations we are sharing have been shared with us so the details may not always be up to date.  Thank you. 

Want to support our billboards?  Everything you donate will be matched.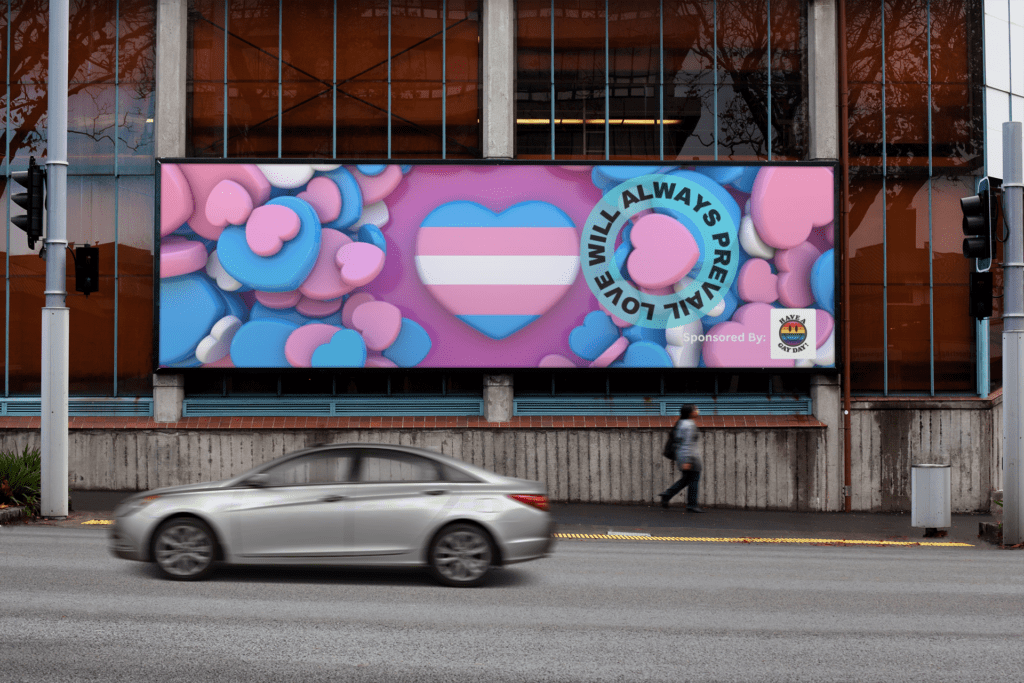 A note to all billboard owners, State and Local Agencies, Members of the Public, and anyone that may have been lead here because of our billboard campaign.  
1.  This campaign isn't about fundraising and we are not requesting funds from any of the billboards that are up.  Legally we have to say who is responsible for putting up billboards and that is the only reason you will see Have A Gay Day mentioned on the billboards. The designs are also open sourced so while you may see our designs we may not have them up locally to you. 
2.  These billboards are not political in any way.  They are simply messages of love and support for people just trying to exist.  
3.  If you have anyone that reaches out to you with a complaint you are more than welcome to direct them to contact@haveagayday.org 
4.  We are volunteers, and currently do not have a paid staff.  So, if you reach out to us if may take some time to get back with you. 
5.  If you spot our billboards feel free to share them on social media and all platforms and you may also download our designs and use them on billboards as you wish. 
We have directions to help HERE. 
6.  The Agenda is Love.
7. Billboards may be digital, or in print depending who downloads our designs.  Since the designs are open for the public we may not be responsible for the images and locations being posted and we do not claim ownership or responsibility for the use or misuse of the graphics we have shared openly for download and do not track the downloads of the files.
Download Designs
Download our designs and use them as you wish to support the Community.
Upload Your Design
Have a design you think we should include in our billboard campaign?
Start Your Own Campaign
Sending messages of love and support can start with you today.
Sending Love to the Community Again…
We were tired of seeing hate focused towards the Transgender Community.  We wanted to answer that Hate with Love.  We wanted to answer that Hate with Kindness.  We wanted to answer that Hate with Hope.  We started a fundraiser on Facebook to do just that in 2022.  We launched in March 2022 and in 2023 we are doing it again.  We believe Hate should always be answered.
Some helpful immediate resources: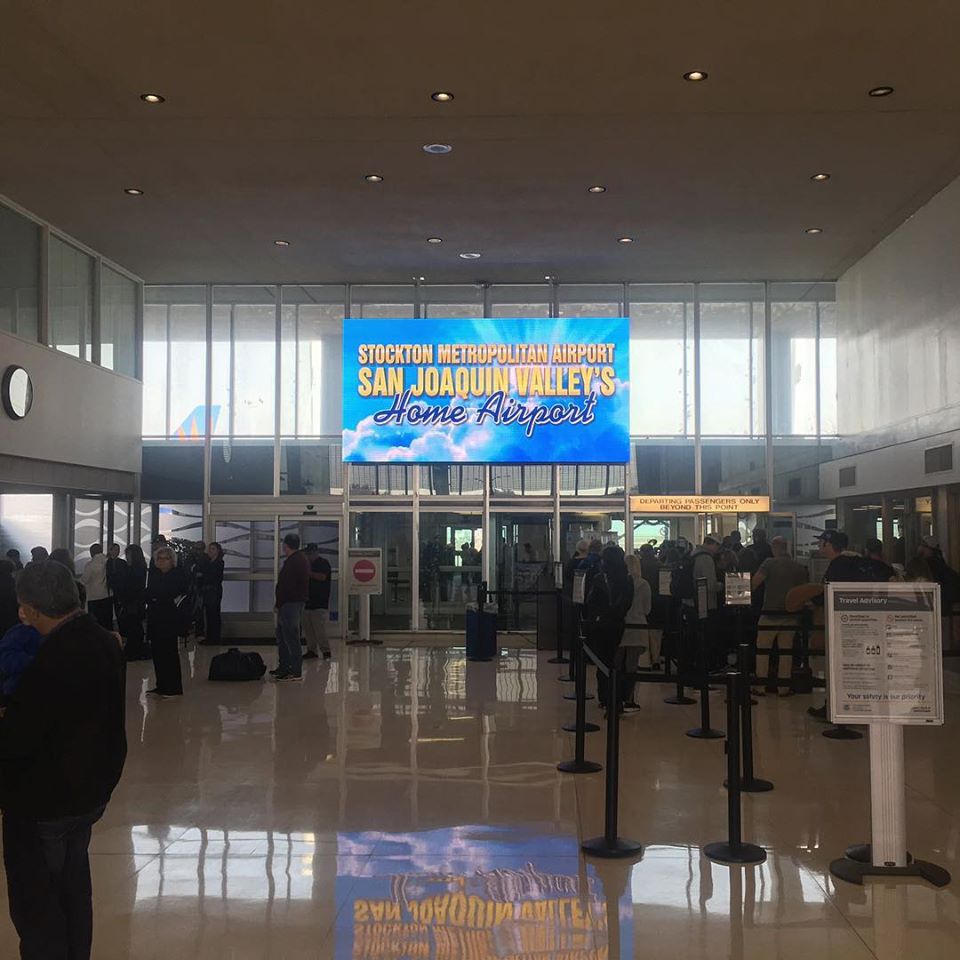 For the week of Transgender Day of Visibility we have so many locations we have not added to our listings.  We have 1,758 locations pending to run graphics across the United States.


The locations listed below may be live but also may be cued locations and considering there are people that have submitted locations to us also we can't guarantee all locations are active.
We have graphics that are pending and waiting for approval and also other locations that have rejected the graphics.  So far this year we have put up over 350 billboard locations. Every week the list will be removed and we will move billboards and locations so we will always be changing and updating locations that are live.
Media Inquiries: please email contact@haveagayday.org
Active Billboards Are Listed Below, Locations Will Be Changing and Updating Through The Week. Because we update locations manually some locations may be active and not listed below.
Airports:
Stockton Metropolitan Airport 
located inside the airport in multiple locations
Alabama
Opelika, AL
N/S Frederick Rd W/O Tiger Town, W/F

Alaska
Arizona
Phoenix, AZ
27175 Black Canyon Hwy
Phoenix, AZ.
I-10 1,500′ e/o 83rd Avenue F/E 17
Phoenix, AZ
Central Ave, S/O Camelback
Yuma, AZ
991 S. Pacific Ave
Arkansas
California
Adelanto, CA
Near Jonathan St and 395
next to Air Expy and Cortez Ave
2 Billboards One Facing South and One Facing North
El, Centro, CA
 Located on Dogwood Rd. at entrance of Imperial Valley Mall.
Hawthorne, CA
Crenshaw Blvd. n/o El Segundo F/S
Santa Fe Springs, CA
I-5 Fwy West Line South of Rosecrans Ave.
Colorado
Colorado Springs, CO
Promenade Shops at Briargate – TMobile/Bad Daddy Burger SS, W/F
Denver, CO
Facing southbound traffic along I-25, near the approach to the Boulder Turnpike
Grand Junction, CO
near I-70 and River Road and 23rd Road
Grand Junction, CO
Hwy 6 & 50, 1.3 miles north of 24 Rd 
Loveland, CO
Sky Pond Dr. ES /NB @ Build-A-Bear, S/F
Loveland, CO
Sky Pond Dr. ES /NB @ Ten Salon, S/F
Loveland, CO
Sky Pond Dr. WS /SB Oakley, N/F
North Washington, CO
 I-76 westbound entrance ramp from I-270
Connecticut
Delaware
Florida
Apopka, FL
off of 441 and Bradshaw Rd
Fort Lauderdale, FL
Florida Turn Pike (Highway 91) @ Highway 441 Intersection F/N
Fort Walton Beach, FL
Near Racetrack Rd NE
Navarre, FL
At the stop light next to 98 and Kings Row
Orlando, FL
Near Lee Vista Blvd and 15
Orlando, FL
Narcoossee Road
Summerfield, FL
Positioned at the corner of US441 and 132nd street road 
2 Billboards North Facing and South Facing
Georgia
Athens, GA
Located along the west side of Hwy 29
Blairsville, GA
seen arriving into Blairsville on Hwy 515/74
Dawsonville, GA
HWY 400 N @ Harmony Church Road NB
Dublin, GA
2060 Hwy 441 South 
Hawaii
Idaho
Illinois
Alton, IL
Near Homer M Adams Pkwy and Central Park Drive
East St. Louis, IL
Located off of 64 and 55 on the Illinois Missouri State Line at the Poplar Street Bridge Facing East and West
Kankakee, IL
IL- Route 45 @ I-57 Exit 308 Sign faces traffic light for traffic going North to Kankakee, and traffic exiting Walmart, Hilton, Taco Bell, Dunkin Donuts and other restaurants and outlet stores.

Indiana
Camp Atterbury, IN
located on I-65 at MM 76.35 just north of the Edinburgh exit.
Clarksville, IN
Left-hand read for northbound traffic on I-65 at MM 2.90. Above CC Power Sports.
Clarksville, IN
Right-hand read for southbound traffic on I-65 at MM 1.10. Above Tom Stinnett RV.
Greenwood, IN
Left-hand read for northbound traffic on I-65 at MM 99.89, one mile south of the County Line Rd exit.
Pendleton, IN
Right-hand read for northbound traffic on I-69 at Mile Marker 213.45 just south of the Pendleton exit.
Springville, IN
Right-hand read for northbound traffic on I-69 at MM 99.60 in Hobbieville. The northernmost billboard on the southern section of I-69, only 15 miles south of Bloomington.
Iowa
Kansas
Kentucky
Louisiana
Maine
Maryland
Baltimore, MD
South Martin Luther King Blvd.
Elkton, MD
intersection of Route 279 and Fletchwood Road
Massachusetts
Michigan
Detroit, MI
On I-75 near I-96,and I-94 and can be seen from Fort St. and Waterman Ave.
Detroit, MI
Located just north of Fairlane Mall.  Near Tireman Ave and Southfield Rd. 
Howell, MI
Located next to the Howell Tanger outlet mall facing East
Windsor Charter Township, MI
Located at M-99 and Waverly Road
Minnesota
Fridley, MN
S/S I-694 .6 miles E/O Hwy. 252 F/W / Near 694 and Main St.
2 Billboards
Mississippi
Missouri
Hazelwood, MO
 located near the I-270/I-370 interchange
St. Louis, MO
location on I-44 in St. Louis County. 2 Billboards Near Tolstoi St. Facing East and West
St. Louis, MO
viewable on the right side while traveling southbound on I-55 approaching the first Arnold exit.
Wentzville, MO
I-70 E/O Hwy 40/61 NS
Near Continental Drive
Montana
Nebraska
Nevada
Elko, NV
2002 Last Chance Rd 534
Las Vegas, NV
2 Billboards Near S Decatur Blvd and Oran K Gragson Fwy / and Veterans Memorial Hwy

One facing East Bound and One Facing West Bound
Las Vegas, NV
 at the intersection of Tropicana and Koval

New Hampshire
New Jersey
Cranbury, NJ
Located on the New Jersey Turnpike 
North Facing and South Facing Near South Livery Way and Station Road.
East Greenwhich Township, NJ
Near The Commodore Barry & Delaware Memorial bridges
Gloucester Township, NJ
Near 168 and 42 and the North-South Fwy Facing Southeast
New Mexico
New York
Oneota, NY
located on I-88 on the right side.
North Carolina
Franklin, NC
Across from Subway at Addington Bridge Rd Intersection
Youngsville, NC
500 US Hwy 1
Highway 1 & Holden Rd intersection
North Dakota
Ohio
Cincinnati, OH
on I-75 North Bound near Ludlow Ave and Spring Grove Ave
Toledo, OH
West Alexis Road @ Teatherwood
Toledo, OH
Oak St & Woodville St.
Oklahoma
Oklahoma City, OK
Near the John Kilpatick Turnpike Facing South at the airport connector
Oklahoma City, OK
N. OKC and Edmond Digital Bulletin heading towards Quail Springs Mall
Woodward, OK
off of Highway 183 and s County Road 206
Oregon
Pennsylvania
Kennedy Township, PA
Located next to traffic light outside of Kennedy Shopping Center
Lancaster, PA
Off of Delp Road and 72
Lititz, PA
101 West Airport Rd
Rhode Island
South Carolina
Columbia, SC
Near Lake Murray Blvd and Rocky Creek Trail
Columbia, SC
1678 Lake Murray Blvd
West Columbia, SC
Hwy 378 @ Botanical Parkway

South Dakota
Tennessee
Kingsport, TN
heading into Downtown and Church Circle. Near Seaver's Doughnuts
La Vergne, TN
located on the Davidson/Rutherford County line, for traffic headed to LaVergne, Smyrna, and Murfreesboro, home of Middle TN Univ.
Memphis, TN
located in front of Southwest Community College along I-40E
Memphis, TN
2 Billboards located nearby Wolfchase Mall and right across from IKEA
Nashville, TN
Near US Hwy 41 and Forest View Drive
Texas
Alvin, TX
Hwy 35 S/O FM 528 near the Alvin Bypass and Wheeler Ln.
Arlington, TX
Located on I-30 in Arlington on East Copeland Road near six flags drive
Brookshire, TX
I-10 W/O FM 359
near Katy Fwy and Solomon LN 
Conroe, TX
105 / .4 mi W/O Highland Hollow / near Wedgewood Pk and W. Davis St. 
Converse, TX
8316 Seguin St
Covervse, TX
State Hwy Loop 1604, 600 ft S/O Coppergate
Edinburg,TX
Located on Business 281 1217 S. Closner Blvd., across the street from H.E.B. Within walking distance to the Court House. 2 Billboards at the same location facing different directions. 
Jarrell, TX
I-35 / 1 mi S/O FM 487 / RH/SB by Monarch Hwy and the C. Bud Stockton Loop
La Marque, TX
I-45 S (Gulf Fwy)/ 4 mi N/O Galveston Causeway
Waco, TX
I-35 S/O FM 3149 / Tours Rd / RH/SB/ Near E Tours Road and 35
Wharton TX
US Hwy 59 820′ N/O FM 102 West Side 
Utah
Orem, UT
next to Veterans Memorial Hwy off S Gold Ky Ln and Sandhill Rd. Facing South and Northwest
Spanish Fork, UT
Right on the main freeway at (257) right at HWY 6 & Spanish Fork Main Street Facing South
Vermont
Virginia
Washington
Lynnwood, WA
Near 164th St SW, Ash Way and 22nd Ave W. Facing West
Tacoma, WA
Canyon Rd E intersection
West Virginia
Wisconsin
Green Bay, WI
near US Hwy 41 and Starr Ct and Lambeau St.
North Fond du Lac, WI
Lake Hallie, WI
116339 Zacho / HWY 53 main north
I-41, N of Johnson St. – Fond du Lac 
Wyoming